Fort Vancouver High School
Class of 1967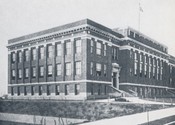 Welcome to the Fort Vancouver High School Class of 1967 website. This site was created to serve as the primary communication point for our classmates of that year. This is a secured site, your information is safe, and you do not have to pay a fee to join. If this is your first time to our website, we recommend you visit the How to Use this Website page by clicking on its link on the menu on the left of the screen.
Reunion Weekend
Our 50th high school reunion was held on August 25-27. Photos from the events can be seen in the Photo Galleries section of this website.
Contact Us
If you have questions about the website or thoughts about what else we should add to the website, the Contact Us page has a simple form making it easy for you to reach us. Or you can send an email to fvhs67@comcast.net.
ANNOUNCEMENTS
FVHS Class of 1967 December Get-Together Movie Night
When: Saturday, December 8, 2018 at 4:30 PM
Where: Dave and Joey Kelso's house for movie night pot-luck, (there is
limited seating so please RSVP at 360-896-5791).Please bring a main or side dish,
a snack, or a dessert.
Address: 1206 NE 160th Ave. Vancouver 98684
Phone: (360) 896-5791
Directions:
From Hwy 14 heading east, take the 164th avenue. exit, and go left under
the freeway. Follow it N about 2 miles, past Fred Meyer (on SE McGillivray)
and Target (on Mill Plain) until you get to NE 15th St. 164th becomes
162nd Ave just past Mill Plain so don't panic
(If you see a Starbucks, that's NE 18th and you've gone too far)
Take a left on 15th and go 1 long block, take another left on 160th
Ave. Go past a couple of cul-de-sacs and our (brown) house is on the
right side just before you get to 12th St.
If anybody needs other directions they can call Dave and Joey. As long as you hit
164th/162nd you'll find their house.