Fort Vancouver High School
Class of 1967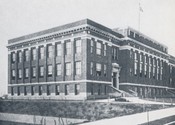 Welcome to the Fort Vancouver High School Class of 1967 website. This site was created to serve as the primary communication point for our classmates of that year. This is a secured site, your information is safe, and you do not have to pay a fee to join. If this is your first time to our website, we recommend you visit the How to Use this Website page by clicking on its link on the menu on the left of the screen.
70th Birthday Party Photos
On Tuesday, Sept. 10, classmates met at the Moulton Falls Winery to celebrate our 70th birthdays. Many thanks to the committee that organized the event. Photos from the celebration can be viewed in the Photo Gallery which can be found on the menu on the left of this screen.
Contact Us
If you have questions about the website or thoughts about what else we should add to the website, the Contact Us page has a simple form making it easy for you to reach us. Or you can send an email to fvhs67@comcast.net.
ANNOUNCEMENTS
It is with great sadness that we share the news of the passing of our friend and classmate Jeff Walsh. Jeff passed away unexpectedly but peacefully in his sleep Thursday night, Sept. 12. He and Terry attended our class 70th Birthday Party on Tuesday evening. Little did we know it would be our last opportunity to spend time with such a kind and gentle man.
Update:
Jeff's memorial service will be on Saturday, Oct. 12, at 3 pm at Evergreen Memorial Gardens, 1101 NE 112th Ave, Vancouver, WA 98684.