Fort Vancouver High School
Class of 1967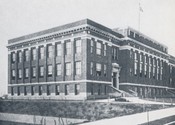 FVHS67 70th Birthday Party
FVHS67 Classmate 70th Birthday Party
We are planning a 70th birthday party to be held in early September. Our informal monthly classmate meet-up group has identified three ideas for our celebration. We would like you to help decide the activity you would most like to attend. Two are date sensitive, and the third venue is more flexible for the day of the week. If you can kindly respond by July 12, we can assure a reservation for the venue you would prefer.
Sternwheeler Cruise on the Columbia River.
"Landmarks of the Gorge Cruise." A five hour cruise up and down the Columbia includes a light continental breakfast and a buffet brunch.
Cost: approximately $90 per person as a group rate.
Possible dates: Sept. 4th, 11th, or 18th
Leaves from Cascade Locks at 10 AM.
Alderbrook Park
Large park east of Hockinson with activities throughout the park.
Cost: a special entrance rate of $10. Catered "picnic menu" at $20-28.
Possible dates: Sept 4th, 5th, or 6th.
Moulton Falls Winery
South of Yacolt with a casual country atmosphere.
Cost: no host food and drink.
The date is negotiable with the winery, but we are still looking at early September.
Thank you for your responses. We hope to see you in September!
With warm regards,
The informal meet-up group
You must be a member to submit this survey. If you are a member please log in first. You can't submit this form until you've logged in.
| | |
| --- | --- |
| 1) | List the potential events (Cruise, Park, and Winery) in order of your preference (first choice to third choice) |
| | |
| --- | --- |
| 2) | For your first choice, specify your preferred date. |
| | |
| --- | --- |
| 3) | How likely are you to attend your first choice event if it is offered? (1=very likely, 2=somewhat likely, 3=not sure yet, 4=unlikely) |
| | |
| --- | --- |
| 4) | Do you have any other comments for the planning group about a 70th birthday party celebration? |